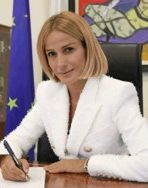 Emily Yiolitis
Minister of Justice and Public Order, Republic of Cyprus
Emily Yiolitis was appointed Minister of Justice and Public Order of Cyprus on 29 June, 2020. She graduated from Foley's Grammar and Junior School in Limassol in 1994 and went on to study in the Law Department of Oxford University (Trinity College), from which she obtained a Law Degree in 1997.

Between 1997-1998 she practiced law at Chrysses Demetriades Law Office in Limassol, after which she continued her practice at Directorate General 10 of the European Commission in Brussels. She continued to obtain her post graduate degree "Legal Studies in Comparative European Law" from the European University Institute in Florence and she was awarded the postgraduate degree in Jurisprudence from Oxford University (Trinity College). She was a Robert Schuman scholar in the Legal Service of the European Parliament in Luxembourg, in the Department of Internal Regulations

Emily Yiolitis has repeatedly been included in the Citywealth IFC Power Women Top 100 list which "recognizes women with achievements that shape public opinion, contribute to the promotion of business excellence in their jurisdiction and consolidate the reputation of the financial services sector". Emily Yiolitis' main areas of activity were corporate, competition, trust and tax law. Emily Yiolitis is a Member of the Cyprus Bar Association since 1998, and founding member of the Cyprus branch of the International Organisation "Internationale pour la Promotion des Femmes d' Europe (AIPFE)" regarding the promotion of women's rights.