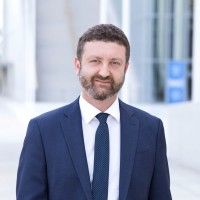 Leonidas Christopoulos
Secretary General of Digital Governance and Simplification of Procedures, Hellenic Republic
Leonidas Christopoulos took over as General Secretary of Digital Governance and Process Simplification in August 2019.
He has many years of experience in the areas of administrative and fiscal reform, simplification of procedures and good legislation.
He worked as a special advisor to Ministers in the Ministries of Education, Development, Finance and Administrative Reform. From 2016 to 2019, he was an advisor to the Leader of the Official Opposition, Kyriakos Mitsotakis, on State and Public Administration issues.
He is a graduate of the Department of International and European Studies at Panteion University with a postgraduate degree from the University of Warwick. He is an excellent graduate of the National School of Public Administration and a permanent employee of the Ministry of Finance.
He has written scientific articles and books on the subject of simplification of procedures and good legislation. He speaks English and German.
He was born in Athens, in 1978.