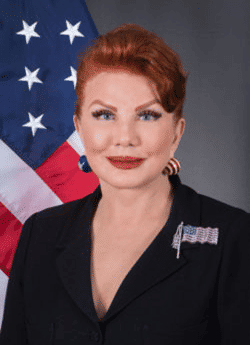 Ambassador Georgette Mosbacher
Co-Chair, Three Seas Initiative, Atlantic Council; f. US Ambassador to Poland and CEO, La Prairie
Georgette Mosbacher is an internationally recognized entrepreneur, author, public speaker, philanthropist and diplomat. From 2018 to 2020, she was the first woman to serve as the United States Ambassador to Poland. She provided critical leadership on top diplomatic issues in the Central European region, many involving defense, energy, and technology.
Ambassador Mosbacher instigated and negotiated the first agreement for using American technology in Poland's developing civil nuclear program. Similarly, she secured a quartet of significant long-term contracts to increase Polish purchases of American liquefied national gas. Together these initiatives reduced Polish dependence on Russian energy, opened new markets for U.S. producers, and strengthened the long-term economic foundation of the strategic US-Polish alliance. At the same time, drawing on relationships and expertise developed during her pre-government tenure as co-chair of the Atlantic Council, Ambassador Mosbacher helped reinvigorate the Three Seas Initiative. An economic cooperation consortium among the twelve EU-member countries bounded by the Baltic, Black and Adriatic seas, the initiative promotes regional economic growth. The emphasis she put on it helped strengthen transatlantic ties and counter the malign influence of Russia and China throughout Central Europe.
On other fronts, Ambassador Mosbacher helped conclude an enhanced defense cooperation agreement between the U.S. and Poland, established a firm construction schedule for the plagued U.S./NATO Ballistic Missile Defense Site in Poland, and broke through decades of administrative morass to pave the way for Poland to become the first nation added to the U.S. Visa Waiver Program in five years. This last development was so significant that Polish President Andrzej Duda announced the historic news alongside Ambassador Mosbacher in a rare, national broadcast. As her tenure was ending, President Duda awarded Ambassador Mosbacher the Grand Cross of the Order of Merit of the Republic of Poland. For her contribution to securing base agreements in Poland, U.S. Secretary of the Army Ryan D. McCarthy awarded her the Department of the Army's Distinguished Public Servant Medal, the Department's highest civilian award.
Before government service, Ambassador Mosbacher was a leader in the intensely competitive cosmetics industry, transforming two troubled companies into international powerhouses. As CEO and owner of Swiss-based La Prairie and CEO and later chair of Italy-born Borghese, Inc., she streamlined and modernized multi-continental manufacturing, built up global supply chains, and refocused product design, formulation, distribution, retail presence, and promotion to significantly increase global reach and sales. As a corporate marketing and management consultant in her own Georgette Mosbacher Enterprises, she has helped businesses succeed in nearly 100 countries. Ambassador Mosbacher is the author of two books and the founder of multiple charities, including the New York Center for Children and Protect Our Daughters. She holds a Bachelor of Science from Indiana University.