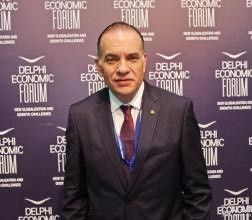 Ambassador Antonio Taquis Ochoa
f. Ambassador of Panama to Greece and Cyprus; General Director & Owner, Panama Shipping Agency & Services
Ambassador Antonio Taquis Ochoa is a Panama-based banker, businessman and diplomat. He is owner and General Director of Panama Shipping Agency and Services, a major corporation representing over 60 Greek shipping companies while operating in Panama. Previously, he was Deputy General Manager, Director and Acting Secretary of the Board of Banco Transatlantico, the family-owned bank.
Ambassador Taquis has also led a distinguished career in the political and diplomatic field. He served as Ambassador of Panama in Greece, Cyprus, Romania, Croatia, Bulgaria and Ukraine, with residence in Greece. Additionally he was Senior Advisor for financial and banking affairs to the President of the Republic of Panama (ad honorem), having previously been Chairman of the Fundraising Committee of President Martin Torrijos. Furthermore, Amb. Taquis has represented Panama at international organizations such as the ICO and the IMO.
He has been engaged as Board member in various organizations such as the Panama Banking Association and the Chamber of Commerce of Panama. He is also an accomplished philanthropist, having performed significant charitable efforts in his father's native, Greece.
Amb. Taquis graduated from Florida State University with a BA in economics and finance as well as a Master's in Banking.