22 Apr 2022
The Greek Wire - April 2022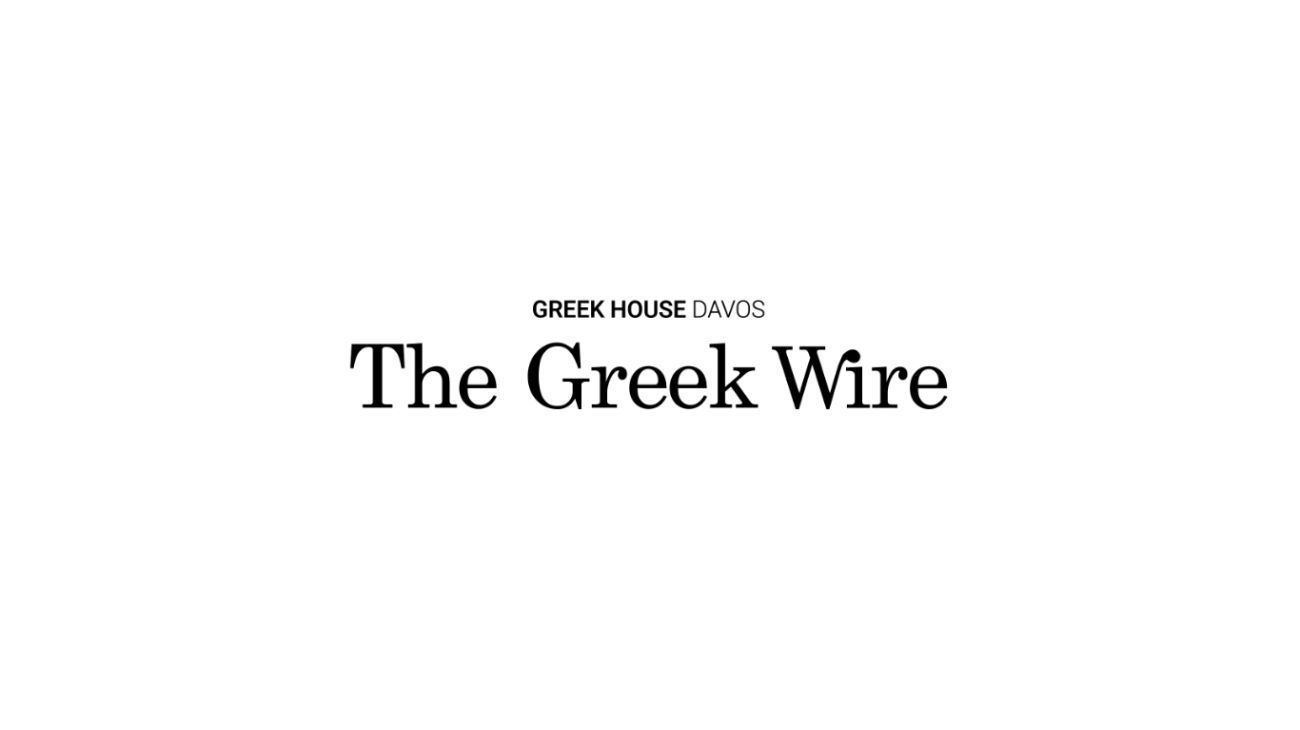 The Greek Wire is a monthly newsletter aiming to inform you about key economic and political developments in Greece.
Greek House Davos 2022 preliminary agenda announced
The World Economic Forum will hold its Annual Summit Meeting in Davos, Switzerland, from 22 to 26 May 2022. Under the tile "Working Together, Restoring Confidence", this year's Forum will give emphasis on rebuilding the economy after the pandemic, tackling climate change, building a better future for work and leveraging the Fourth Industrial Revolution. At Promenade 49d, the Greek House in Davos will be a strong ally of the Greek companies and enterprises that wish to be present in Davos and participate in the broader activities of the World Economic Forum and its partners.
You can read the preliminary agenda here
Projected GDP growth 2.5-3% for Greece
In its Quarterly Bulletin for the Greek Economy, the Foundation for Economic and Industrial Research projects real GDP growth of 2.5-3% in 2022, according to its baseline scenario, assuming that the war in Ukraine will continue beyond Q2 and energy costs will remain high. Unemployment is projected to an average of13.5% and CPI inflation to rise between 7% and 7.8% throughout 2022.
Increase of 33% for the Greek Industry turnover in February
The Hellenic Statistical Authority announces that the turnover Index in Industry for both Domestic and Non-Domestic Market in February 2022 recorded an increase of 33.8% compared to the corresponding index of February 2021. The Overall Turnover Index in Industry in February 2021 decreased by 3.1% compared to the corresponding index in February 2020.
The Overall Turnover Index in Industry in February 2022, compared with January 2022, recorded an increase of 14.4%. The average Overall Turnover Index in Industry for the 12-month period from March 2021 to February 2022 increased by 32.8%, compared to the corresponding index of the 12-month period from March 2020 to February 2021.
Greece increases minimum wage to battle inflation
The Greek government announced an increase to the minimum wage to 713 euros before taxes from 663 euros. Along with a previous uptick in January, the increase constitutes a total increase of 9.7% this year. The measure, which will be put into effect on 1 May, means that approximately 650,000 employees will earn more than an extra net salary per year. According to official data, Greeks pay the highest electricity bills on EU level, and the government is under pressure to take further support measures. Prime Minister Kyriakos Mitsotakis has vowed to take action to control energy prices if no EU-wide response is agreed on. Still, there is limited fiscal space for continuous financial support. The Prime Minister noted that this decision, which was taken "in a spirit of responsibility and solidarity" towards wage-earners, is a decision aimed to protect social cohesion and to prevent setbacks in achieved progress so far.
Inflation at a record 8.9% in March 2022
The Consumer Price Index (CPI) in March 2022 increased by 8.9% compared to March 2021. Euro area annual inflation is expected to be 7.5% in March 2022, up from 5.9% in February. Looking at the main components of Eurozone inflation, energy is expected to have the highest annual rate in March (44.7%, compared to 32.0% in February), followed by food, alcohol & tobacco (5.0%, compared to 4.2% in February), non-energy industrial goods (3.4%, compared to 3.1% in February) and services (2.7%, compared to 2.5% in February).
Greece ready to become a gas producer and exporter
A new era is dawning in Greece and according to a report by the Institute of Energy for Southeast Europe (IENE), the country can and should turn from a crude oil and natural gas importer into a hydrocarbon producer and gas exporter. The energy price rise shows that hydrocarbons will continue to constitute an indispensable element of the global, European and Greek energy mix for several years. Although the size and value of potential hydrocarbon reserves in the country have not yet been determined, estimations regarding the existing quantities remain very positive, concerning some 2-2.5 trillion cubic feet of gas.
Greece is ranked first in pre-booking sales for 2022 from all destinations
The early launch of the tourism season in Greece has brought results. The Greek Minister of Tourism, Vassilis Kikilias, said that the country's authorities have been working hard to launch the start of the tourist season, and the data for occupation of available accommodation for the Easter period justify all the efforts. Tourism is one of Greece's main regional development tools. According to the Minister, this is because the Greek islands are small, and the mountainous areas attract investment and keep their population thanks to the income from tourism. The decision to start the tourism season earlier than ever played an important role in achieving the increase in the number of tourists at this time. Based on trends by TUI France, Greece is ranked first in pre-booking sales for 2022 from all destinations. Bookings this year have also increased to three-digit rates compared to summer 2021. Moreover, the main destinations in Greece for the French are Athens, Crete, Kos, Rhodes and Corfu.
First Cyprus-Greece Ferry in 22 Years Could Start Service in June
Cyprus and Greece are getting a new connection. The first Cyprus-Greece passenger ferry line will start as early as June from Limassol port 22 years after it was abandoned. The maritime link will serve the port of Limassol and that of Piraeus for the transportation of passengers and their vehicles. Three European entities had submitted expressions of interest in the improved tender in January. Cyprus authorities said that reviving the ferry connection will help to continue building our relationship with the rest of the Mediterranean and we welcome the opportunity to expand the ferry link to a third neighboring country beyond Greece. In November, the ministry launched a fresh attempt for a three-year contract valued at 33 million euros (35.6 million us dollars) with annual state aid of 5.5 million euros.
The day after the pandemic, Greece is well-placed to co-exist with Covid
Greece does not believe in a zero-coved strategy and the country will have to co-exist with the virus, said Health Minister Thanos Plevris. With the tourism industry opening up for summer the government has given priority to bolstering national healthcare and protecting vulnerable groups. According to the Ministry of Health these policies combined with current epidemiological trends of the coronavirus disease, ensure that Greece is well-placed to co-exist with Covid-19.